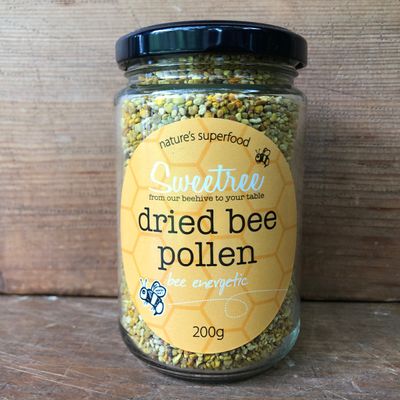 Dried Bee Pollen 200g - Glass Jar
Sweetree
$25.00
Enjoy the benefits of increased energy and stronger immunity with Sweetree Bee Pollen. Bee pollen is often thought of as a dietary supplement but is much more than that. It is one of nature's best superfoods, providing a sustainable source of energy for a healthy balanced life. It is naturally rich in protein and contains virtually every known vitamin, 28 minerals, plus numerous active enzymes and fatty acids.
Regular consumption aids your general health and well-being. Just some of the reported benefits of Sweetree Bee Pollen are sustained energy, enhanced immunity, reduced stress, relief of inflammation, more rested sleep, and better skin condition.
Bee pollen is often used by athletes to improve strength, endurance, energy and speed, and decrease downtime due to illness. It is said to help muscles recover more quickly from exercise and to increase mental stamina.
Sweetree Dried Bee Pollen is of high quality and nutritional value. It is collected from our beehives at our Horsham Down's apiary near Hamilton where there is an enormous variety of flowering plants year-round. The flavour of the bee pollen will depend on the floral source and each granule has a different flavour. You will receive a mouthful of many flavours including sweet, tart, and earthy.
You can add to ice cream, salad dressing, sandwiches, cereal, yoghurt, smoothies, etc.If taking Bee Pollen for the first time start with ¼ teaspoon and over a week gradually increase to 1 teaspoon and up to a dessertspoon per day. This standard pouch should last one person 10-12 weeks.To find out more about our pollen, including different ways of eating it, check out Sweetree Bee Pollen Facts.
It comes in a glass jar for a plastic-free alternative, until we use up our plastic pouches then we will be plastic-free.

Sweetree Bee Pollen won Bronze in the Outstanding NZ Food Producer Awards, Gold in 2017 & 2016, Bronze in 2015, Gold in 2014, Gold in 2013, and Bronze in 2012 National Beekeepers Association Honey Show!
Customer Feedback
"I woke up this morning and as I was having my morning spoon of bee pollen I started feeling so grateful for this amazing superfood and the people responsible for supplying it, you. Thank you so much for your work, I haven't tried any of your other products but from what I can see by reading online they are all as great as your bee pollen. You will have me as a customer for your bee pollen for as long as you produce and sell them. Have an amazing day and thank you so much for your great work!"
Sinho So

"I have tried so many different bee pollens throughout the years and Sweetree is the only one that I have found to have a clean, pure and beautiful taste that just melts in your mouth. It is delicious whether you decide to use it in recipes or on your porridge. It's even good enough to eat on its own. Not only is the product superior but the service from this family-owned company has been impeccable...thank you to the owners of Sweetree for bringing this pollen to our tables!"
Inna Nodelman, Helix Natural Health, Sydney, Australia
"I have found Sweetree Bee Pollen to be an excellent source of protein, vitamins and minerals. It helps to sustain my energy levels during the day. I also recommend bee pollen to my patients, who have had the same results. The pollen is really fresh and I fully endorse it."
Chris Rhodes, Naturopath, Homoeopath & Medical Herbalist, Hamilton
SKU: PD200G