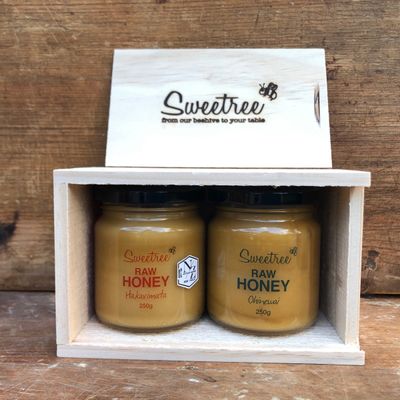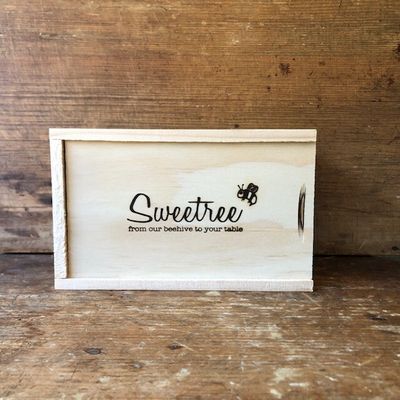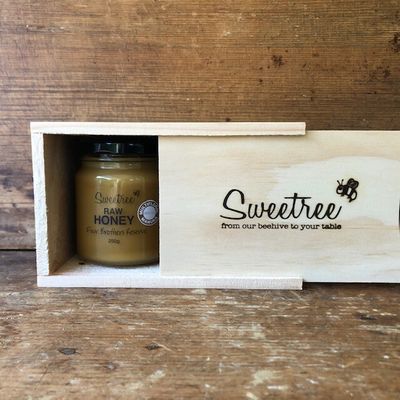 Sweetree Two Honey Gift Box
Sweetree
$25.00
Give a taste of the Waikato with this sustainable gift box, which includes two of our favourite honeys in attractive 250g glass jars. Each honey has it's own distinct taste depending on the location and time of year it is harvested. Perfect for visitors to New Zealand wanting to take a piece of our beautiful country home with them.
Honey Options:
250g Hakarimata Honey - Nestled in the foothills of the Hakarimata range, our bees feast themselves on the copious sources of nectar from native flowers above and pasture flowers below. This multi award winning honey is an all-time favourite. This silky smooth honey tastes of lollipops. It is a favourite that just melts in your mouth, leaving you wanting more!
250g Four Brothers Multi-floral Manuka Honey (111MG) - Sweetree's Four Brothers Reserve derives its name from our apiary's location near the beautiful bush-clad deviation linking Hamilton and Raglan. This multi award winning honey is also an all-time favourite. Strong aroma with a slightly grainy texture. Butterscotch tasting with a kick of earthy manuka to finish.
250g Ohinewai Honey - Ohinewai is the childhood home village of Martin and where the apprentice beekeeper began a love for bees. Sweetree's Ohinewai honey is a journey full circle as we bring this delicious honey to your table. Kanuka, clover, river and pasture flowers interwind with fond memories and community spirit. This ultra-smooth and glossy honey will remind you of caramel fudge, with a lovely lingering taste. Try a spoonful of this soothing honey for a good nights sleep.

250g Kirikiriroa Honey - Our bees collect this honey from iconic Hamilton sites including the Hamilton Gardens and Zoo. It is golden in colour and has a beautiful buttery flavour cut through with a citrus notes. Herbaceous minty aroma, this smooth honey will dance on your tongue with citrus tones.
Packaged in an attractive wooden gift box from sustainable South Otago forests.
Please note not the honey varieties may change from time to time.
Customer Feedback
"I received my order of honey today and I just wanted to thank you guys so much for the effort you put in. The package was securely wrapped, it was fast delivery and I honestly couldn't be more happier. I was not expecting even half of the effort put in so thank you so much. I just wanted to let you guys know that you are doing a great job and I will definitely be ordering from you guys again as well as recommending your business."
"A+ delivered to a family member who was delighted with the presentation and product."
"Sweetree Honey was a great idea for our wedding gift because it could represent a natural product of New Zealand that our friends and family member could carry home and have the pleasure to taste everyday a beautiful honey. The quality of the honey is exceptional and we loved the fact that in the nice wooden box you could find two different type of honey. These gave variety within the gift."
SKU: 10000-1