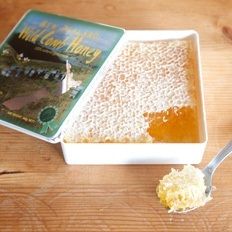 Wild Comb Honey - 340g
$25.00
Out of stock
Comb honey is just as the bees made it. It retains all the subtle flavours and aromas of honey straight from the hive. We are very pleased to be able to offer a quality comb honey produced by Te Akatea Apiaries located in Waingaro, west of Hamilton.
It's a fantastic way to eat honey although beeswax is not to everyone's taste! But if you haven't tried it, give it a go, you may be like many others who revere honey comb along with the likes of other local favourites like whitebait, vension and crayfish.
This comb honey has a wild bush honey taste with good flavour and a gentle finish. It has recently won a gold at the National Beekeepers Association honey competition!
Minimum weight 340g
We do take great effort to ensure the safe and secure packaging of this product, the honey may move out of and around the comb during transit. In no way does this affect the quality or taste of the comb honey.
SKU: CH