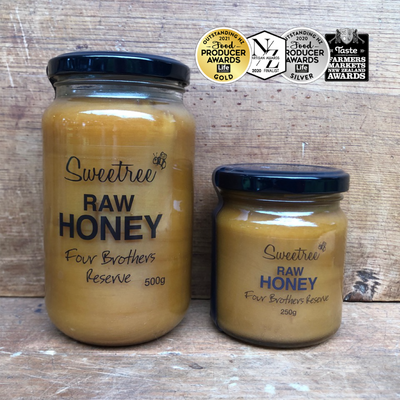 Four Brothers Reserve Raw Honey
Sweetree
$16.00
Sweetree's Four Brothers Reserve derives its name from our apiary's location near the beautiful bush-clad deviation linking Hamilton and Raglan. On the horizon, wind turbines produce renewable power while our bees gather nectar from pasture flowers, Kanuka, Manuka and other natives.
A sweet floral aroma with smooth butterscotch flavour and earthy notes.

Our Four Brothers Reserve won a gold award in 2021 & silver award in the Outstanding NZ Food Producer Awards in 2020 and Finalist in the NZ Artisan Awards in 2020.
Check out the recipe for Sweetree Honey Brushetta using Four Brothers Reserve honey! This honey is featured in Simon Gault's cookbook - Homemade!
Customer Feedback
"Many thanks for your prompt delivery!!! Made our COVID19 lockdown! My husband isn't normally a honey eater but eats yours by the jar full! Thanks again and best wishes."
Lucy Funaki
"Delicious local honey. I particularly like the Horsham Downs (not too sweet) and the Four Brothers (buttery smooth texture). Purchased wax from website too, great value for money. Super quick delivery!"
T van Meygaarden
"Honey arrived safely and wow - what a superb taste and feel sensation! I'm a honey freak, and can say with conviction that your Four Brothers Reserve is the best and smoothest honey I've ever tasted. So please don't stop doing whatever you and your bees are doing!"
Lis Pedersen, Cats Pjamas B & B, Richmond
"I received my order of honey today and I just wanted to thank you guys so much for the effort you put in. The package was securely wrapped, it was fast delivery and I honestly couldn't be more happier. I was not expecting even half of the effort put in so thank you so much. I just wanted to let you guys know that you are doing a great job and I will definitely be ordering from you guys again as well as recommending your business."
Nikita Rindel, Christchurch
SKU: FB500