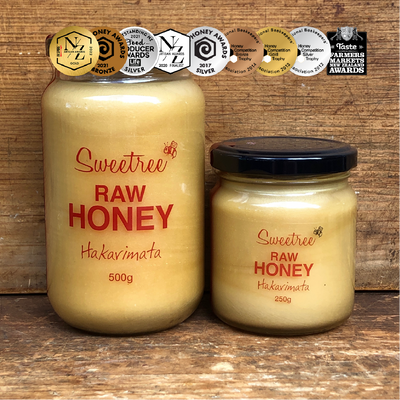 Hakarimata Raw Honey
Sweetree
$16.00
Sweetree's Hakarimata honey is collected from the Hakarimata Range which forms part of the western rampart of the Waikato Basin. Nestled in the foothills, our bees feast themselves on the copious sources of nectar from native flowers above and pasture flowers below.
This silky smooth honey tastes of lollipops. It is a favourite that just melts in your mouth, leaving you wanting more!
Check out the recipe for Sweetree Honey Oats Biscuits using Hakarimata honey!
This honey won Bronze in the ApiCulture Honey Awards in 2021, Silver in The Outstanding NZ Producer Awards, Silver in 2017, Bronze in 2014, Gold in 2013 and Silver in 2012 in the 'Beekeepers Special Reserve' honey competition with the National Beekeepers Association Honey Show.
Customer Feedback
"I just wanted to write to thank you for your consistently excellent customer service and product quality. It makes me so happy to support an NZ company that upholds such standards and that values natural products. I've never gone back to supermarket honey since I started buying my honey from you and the Hakarimata is my favourite one so far!"
Anna, Palmerston North
"I opened the jar and tried the honey, Hakarimata is super - intense, full-flavoured and quite delicious"
Annabelle White - Chef, Author and TV personality
"I received my order of honey today and I just wanted to thank you guys so much for the effort you put in. The package was securely wrapped, it was a fast delivery and I honestly couldn't be more happier. I was not expecting even half of the effort put in so thank you so much. I just wanted to let you guys know that you are doing a great job and I will definitely be ordering from you guys again as well as recommending your business."
Nikita Rindel, Christchurch
SKU: H500